JUAL THERMAL OIL 2.000.000 KCAL
Thermal Oil boiler 2.000.000 kcal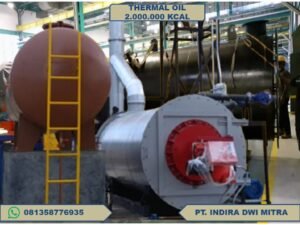 Boiler oil 2.000.000 kcal/h merupakan mesin thermal fluid digunakan untuk membawa energi pada aplikasi pemanasan, industri processing dan juga pendinginan mesin industri. Thermal oil paling sesuai digunakan pada aplikasi bersuhu tinggi di mana kondisi operasi paling optimal berada di antara 150ºC sampai 350ºC. Pada suhu ini, pemanasan dengan menggunakan Thermal oil / thermal fluid akan memiliki efisiensi paling tinggi jika dibandingkan dengan metode pemanasan lain seperti menggunakan steam (uap), elektrik atau direct fired.
Pada saat ini kami mengembangkan MesinThermal Oil Heater/Boiler dengan Kapasitas standar 2.000.000 Kcal/ 2.000 Mcal, sudah banyak kemajuan signifikan dalam teknologi thermal oil. Thermal oil yang sekarang jauh lebih stabil pada suhu tinggi, tidak beracun dan dapat mencapai suhu yang lebih tinggi daripada sebelumnya. Hal ini dikarenakan banyak perusahaan pembuat thermal oil yang meneliti dan mengembangkan teknologi thermal oil ini sebagai salah satu bidang bisnis mereka.
Aplikasi Thermal oil 2.000 Mcal
Cairan yang digunakan untuk media perpindahan panas secara umum disebut sebagai Thermal fluid. Kelebihan thermal oil adalah mempunyai titik uap / boiling point yang lebih tinggi yaitu berkisar pada suhu 300 – 400 ºC tergantung dengan jenis thermal oil nya. Selama kondisi operasional berada di bawah titik uap nya tidak akan terjadi perubahan fase pada thermal oil tersebut. Oleh karena itu sistem thermal oil dapat bekerja pada tekanan rendah untuk menghasilkan suhu tinggi yang diinginkan.
Berikut adalah beberapa contoh penggunaan Thermal oil dalam berbagai macam industri:
• Pabrik Industri farmasi
• Pengolahan plastik & karet
• Tekstil dan garmen
• Pengolahan minuman/makanan
• Produksi Minyak dan Gas Bumi
• Pengolahan playwood
• Pabrik kosmetik
• Pengolahan kertas, kardus dan turunannya
• Industri marine/kapal
• Pengolahan logam/besi
• Perhotelan dll
Spesifikasi Produk
Thermal Oil Heater Cap. 2000 Mcal/h ( 2.000.000 Kcal )
Thermal Capacity 2000 Mcal/h 1 Unit
Coil Pipe heater Ø 76.1 x 3.2 SA 192 1 Lot
Desain temperature 300 °C
Test Pressure Coil 12 Barg
Max. thermal fluid temperature 290 °C
ΔΤ between outlet and inlet temperature 32 °C
Length (TOH Only) 5000 mm
Diameter (TOH Only) 2180 mm
Height (TOH Only) 2640 mm
Thermal oil inlet flange 150 DN
Thermal oil outlet flange 150 DN
Thermal Oil empty weight (Approx.) 10.000 Kg
Consumption diesel oil (load 85%) 240 Ltr/h
Circulation Pump Flow Rate 180 m³/h
Pump Head (maksimal) 60 Mtr
Power consumption 60 KW
Insulation Clading Stainless 1 Lot
Pressure gauge with switch 1 Unit
Box panel (schneider) 1 Unit
Temperatur Control (Autonic) 3 Units
Pump oil heater KSB – Etanorm SYT Series (German) 1 Units
Burner Gas ( Riello Italia ) 1 Set
Expantion Tank Mild steel 6mm (oil) c/w support 2000 Ltr
Collecting tank Mild steel 6mm 2000 Ltr
Chimney Ø 485 t.6mm 9 Mtr
Komponen Penting
Pemilihan Heating Coil ( Pipa Coil di Dalam Mesin Thermal Oil Heater )
Pemilihan Burner ( Rangkaian Mesin Pembakar di dalam ruang bakar )
Penentuan Pompa ( Pompa Sirkulasi untuk media Oil Heater )
Pemilihan Expansion tank ( Tanki Penampungan oli dari line Produksi )
Pemilihan Thermal fluid ( Kapasitas dan Density Oil Heater )
Keuntungan Thermal Oil boiler
Fluida termal dapat mencapai temperatur hingga 400ºC dalam fase cair dengan tekanan rendah:
• Tidak ada korosi pada pipa coil.
• Karena bekerja pada tekanan rendah, tidak perlu ruang ketel atau teknik sipil yang mahal.
• Tidak perlu operator yang berkualitas.
• Desain termal yang tinggi karena karakteristik fisik-kimia minyak termal.
• Tidak membutuhkan air bersih.
• Perawatan yang mudah.
• Tidak perlu suart izin oprasi (sertifikat disnaker)
• Biaya investasi relatif terjangkau
Sistem minyak termal lebih unggul daripada sistem perebusan air Ketel minyak termal hampir selalu lebih murah untuk dioperasikan dan dirawat daripada ketel air. Tekanan tinggi yang diperlukan untuk mengoperasikan boiler air dan uap membuatnya jauh lebih berbahaya daripada boiler minyak termal. Keuntungan nyata lainnya dengan sistem minyak termal adalah kurangnya korosi, endapan kapur dan kerak yang umum dengan air panas atau ketel uap sehingga meningkatkan biaya pengoperasian ketel air secara signifikan. Selain itu, boiler minyak termal tidak memerlukan air rias atau perangkap uap yang menguras efisiensi.
Kontak kami :
PT. INDIRA DWI MITRA
Kawasan Pergudangan LAKSANA BUSINESS PARK Blok No. F-009
Jl. Raya Kali Baru, Laksana, Kec. Pakuhaji Tangerang – Banten 15570
Phone  : 021-593 71 687
Tlpn : 081385776935
Email  : idmarifin2@gmail.com